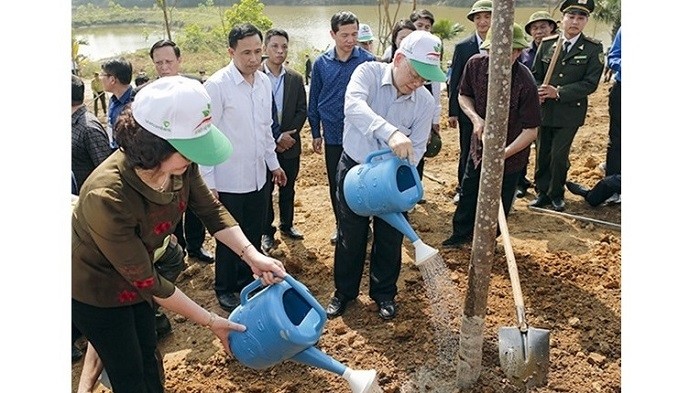 Party General Secretary and President Nguyen Phu Trong launches the New Year Tree Planting Festival 2019 in Yen Bai on February 10, 2019. (Photo: laodong.vn)
Yen Bai province now has more than 460,000 hectares of concentrated forest and forest land with the coverage of 63%, one of the highest rates in Vietnam. Cinnamon trees are the most widely planted in Yen Bai.
Each year Van Yen district alone grows about 2,000 ha of cinnamon trees, nearly 80% of its newly planted trees. This year Van Yen plans to grow 3,800 ha of forest, mainly in outlying communes.
Mai Mong Tuan, Chairman of the Van Chan district People's Committee, said: "From the beginning of this year we have been developing detailed plans for communes and towns and assigning functional sections to work with them. The two main crops are planted in the spring and autumn, with a focus on cinnamon trees. This year targets between 1,000 and 1,200 ha of cinnamon trees."
To realize the set target of growing an additional 16,000 ha of forest this year, Yen Bai has specified locations and chosen high market value trees suitable to their ecological conditions. Forestry businesses have prepared hundreds of thousands of seedlings to meet the local demand.
Nguyen Thai Binh, chief of the Yen Bai Forest Management Force, said: "We have made necessary preparations for afforestation and inspected seedling growing facilities to ensure a qualified supply resource. We will coordinate with local administrations and forest owners to inspect the land reserved for afforestation and make suitable plans."
This year Yen Bai launched its New Year tree planting festival on the sixth day of the lunar year. On that day the province planted 20 ha of concentrated forest and plans to plant 3,500 ha of forest in the first lunar month.
Nguồn: vovworld.vn