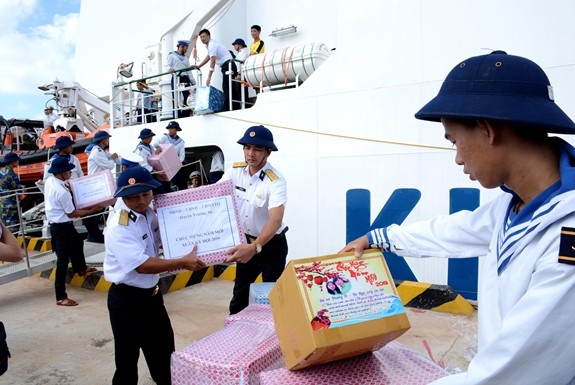 Tet gifts are transported to Truong Sa Island. (Photo: qdnd.vn)
Truong Sa (Spratly) archipelago is far from the mainland, but it still celebrates Tet with Chung cakes, pork, kumquat trees, peach blossoms, and apricot blossoms.
In the final days of the lunar year, soldiers usually seen marching with their rifles on the training ground or guarding Vietnam's territorial waters take some time out to boil Chung cakes.
After sundown, the soldiers and civilians sit together around a cooking fire boiling Chung cakes, playing the guitar, and singing songs.
Square almond leaves are as big as Dong leaves in the mainland. (Photo: tienphong.vn)
Soldier Pham Quoc Tuong stationed on Da Lon A (Discovery Great Reef A), said: "We get together to chat or sing. The officers try to create a cozy, homelike atmosphere. I was very surprised at first to find myself wrapping Chung cakes in square almond leaves. The conditions here are not as good as on the mainland, but we have made the most of what we have."
Sinh Ton (Sin Cowe) island seems busier at Tet than the other islands. Red banners with new year greetings are hung up above the roads. Yellow apricot trees made of Phong ba birch branches and decorated with colored lights are put at combat posts. Bonsai kumquat trees sent from the mainland are displayed at islanders' houses.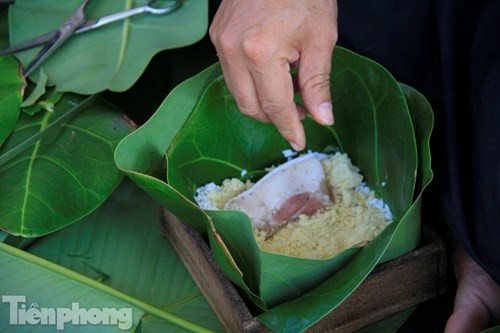 Chung cakes are wrapped in square almond leaves. (Photo: tienphong.vn)
Captain Tran Van Duong said: "Frankly we miss home and miss our children. Some new recruits are still like fish out of water, but thanks to the support of local people, we feel confident and our morale is high."
The bond between soldiers and military staff has helped Doan The Hien overcome hardships and homesickness to stay on the island this year to welcome Tet.
Hien said: "The bond of comradeship has warmed my heart and lessened my homesickness. Soldiers and islanders make Chung cakes and other dishes together."
An art exchange gala to ring out the old year and ring in the new year brings joy to the Truong Sa islands at Tet.
The singing of soldiers and civilians travels through the sound of waves and wind. Though it might not be in tune or in rhythm, it expresses the feelings people of the island district want to send to the mainlanders.
Political instructor Lieutenant-colonel Tien Quang Su who lives on Phan Vinh (Pearson Reef) told VOV: "The gala night and other culture and sports activities organized for the Tet holiday help enrich the lives of the soldiers and other islanders. These moments on New Year's Eve help us stand firm to protect Vietnam's sacred sovereignty."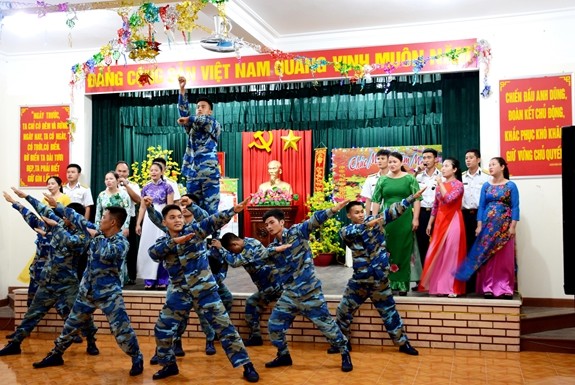 An art exchange to welcome the Lunar New Year on Truong Sa island. (Photo: qdnd.vn)
When Tet arrives, Vietnamese people have a custom of visiting a pagoda to pray for good luck on New Year's Eve and on the first lunar day. It's the same on Truong Sa island, where the locals prepare simple offerings that convey their hopes and expectations.
Monk Thich Tue Nhan of Vinh Phuc Pagoda on Pearson Reef, said: "When Tet arrives, the soldiers, military staff, and local people go to the pagoda to burn incense and pray for good luck, good weather, peace, and completion of assigned tasks. In recent years, thanks to support from mainlanders, Truong Sa island district has enjoyed pleasant Tet holidays."
Nguồn: vovworld.vn