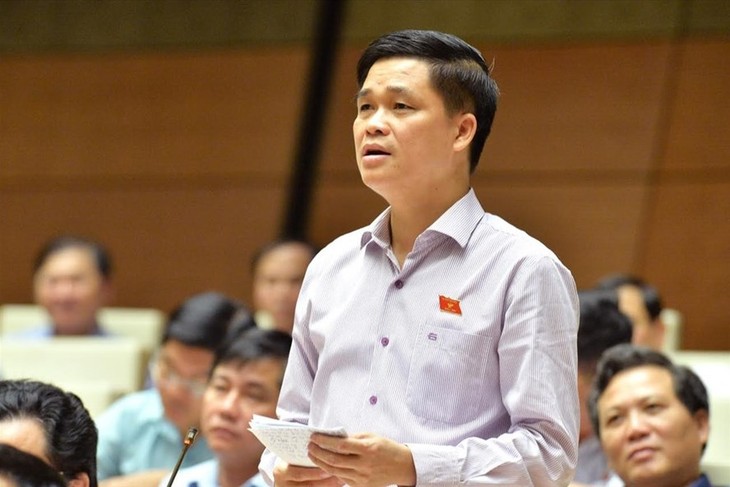 Ngo Duy Hieu, Deputy President of the Vietnam General Confederation of Labor. (Photo: quochoi.vn)
In addition to social welfare, Tet bonuses are a big incentive for workers. Ngo Duy Hieu, Deputy President of the Vietnam General Confederation of Labor, revealed the organization's plan to ensure a happy Tet for workers: "We'll oversee the implementation of regulations on increasing the minimum salary or adjusting wages, provide transportation to workers returning home for Tet, and deliver gifts to workers who aren't going home. Art performances will be held to keep workers entertained during the Tet holiday."
Dong Nai province has more than 1 million workers, most of whom are working far from their home. This Tet, many businesses plan to offer Tet bonuses equal to at least one to two months' salary, pay for transportation, and organize activities to help every worker enjoy a happy Tet.
Nearly 35,000 workers of the Taekwang Vina Company in Bien Hoa Industrial Zone 2 will each receive a Tet bonus of 258-860 USD. Those who won't be going home for Tet will celebrate the event at a company party.
Dinh Sy Phuc, president of the company's trade union, said: "We have arranged buses to take workers home for Tet. Depending on the distance to their hometown, workers can take off work one or two days earlier and return to work one or two days later. We are paying half of their transportation cost."
The Dong Nai Trade Union is donating more than 1,600 bus tickets worth 185,000 USD to workers with economic difficulties as well as 5,700 gifts worth 22 USD each.
The Dak Lak Trade Union is working with firms to ensure the timely payment of wages and Tet bonuses. In addition to gifts and subsidized train and bus tickets, some workers will receive support for repairing or replacing their house.
Tran Tuan Anh, president of the provincial trade union, said: "The 'Warm Tet festival' program in Hoa Phu Industrial Zone will involve more than 300 workers. We will hand out 300 gifts worth 22 USD each."
The HCMC Trade Union said 35,000 train and bus tickets will be given to disadvantaged workers who haven't gone home for 3 consecutive Tet holidays.
A "Warm Tet festival" will also be held in the city for workers who can't go back to their hometown for the holiday. A similar event will take place at the Binh Duong provincial labor culture center.
The Binh Duong Trade Union plans to provide 6,000 bus tickets worth up to 65 USD each to disadvantaged workers.
Nguồn: vovworld.vn