The book week included displays of old panoramic photos and maps of Saigon and cultural events recalling the city's colorful history. The maps included five original maps of the city when it was besieged by the French in the 19th century.
Le Ngoc Thuan, a resident of District 1, was reminded by a photo of the Saigon Central Post Office, how beautiful Saigon looked a dozen years ago. The Boulevard, Catinat Street, Ben Thanh market, and the Notre-Dame cathedral were landmarks of the youth of Ms. Thuan, who was born and raised in Saigon.
She still remembers the Saigon lifestyle and clothing of the past, adding: "These photos remind me of HCMC's past. The city keeps developing but manages to preserve some of its old character. This is a precious thing."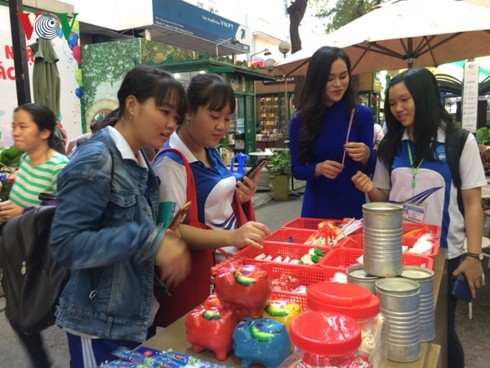 Many young people are keen on learning the noshes of Saigonese in the past.
Nguyen Le Thanh Long, a young man who lives in Binh Thanh district, said he sees how much HCMC has changed when he compares the photos to the city today.
"My favorite photo is of Nha Rong wharf, where President Ho Chi Minh embarked in 1911 to seek a path to national salvation. I also like the photos of the changing streets. The city has changed too much," said Long.
The highlight of the book week was a space that recreated the popular dishes of Saigon's past.
Other events included dialogues with historians, discussions of books about Saigon, and cultural performances.
Le Hoang, Deputy President of the Vietnam Publishers Association and Director of HCMC Book Street, said the event was a great success, especially with young people.
"The display of maps, photos, and the recreation of the daily activities of Saigon's former residents illuminated HCMC's long history," noted Hoang.
Nguồn: vovworld.vn