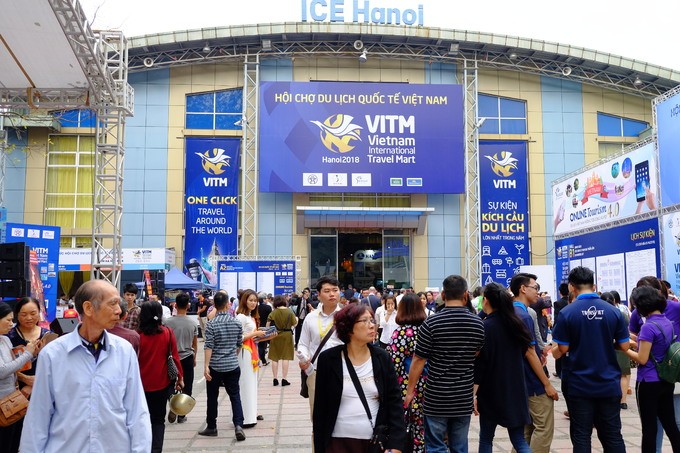 VITM 2018 welcomes more than 70,000 exhibition goers. (Photo: vnexpress.net)
Featuring 675 firms from 21 countries and territories, the mart offered Vietnamese and foreign businesses an opportunity to promote products and services that can make tourism a spearhead economic sector.
Themed "Online travel, Vietnam tourism looks toward the 4th industrial revolution," the event encouraged enterprises to grasp new business opportunities in the digital era.
Vu The Binh, Chairman of the Vietnam Society of Travel Agents and head of the organizing board, said: "Vietnamese travel businesses should link their services. Foreign firms are very good at this. A person or a company should be in charge of connecting all tourist services so their benefits can be shared."
More than 40,000 low-cost air tickets were sold and more than 15,000 package tours were booked at VITM 2018.
Nguyen Thanh Long, a visitor from Hanoi, said: "I hope to buy air tickets at reasonable prices for our family's summer vacation."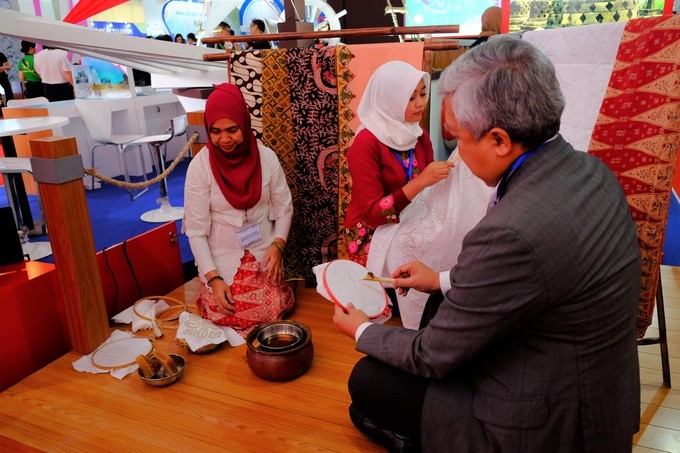 Indonesia introduces new tourist destinations at VITM 2018. (Photo: vnexpress.net)
Last year, Vietnam received nearly 13 million international visitors, up nearly 30%, and 73 million domestic travelers, earning 22 billion USD.
Though Vietnam's tourism saw a growth of 30%, the industry's competitiveness remains modest compared to Thailand, Singapore, Malaysia, and Indonesia.
Vietnam's goal is to serve 94 million travelers this year, 15 to 17 million of them foreigners, bringing in revenues exceeding 27 billion USD.
To realize the goal, the tourism sector will take drastic measures focused on strengthening management in localities, ensuring security and safety at tourist destinations, and improving service quality. The hospitality industry will boost advertising and promotion of Vietnam's image at domestic and international fairs.
Nguồn: vovworld.vn