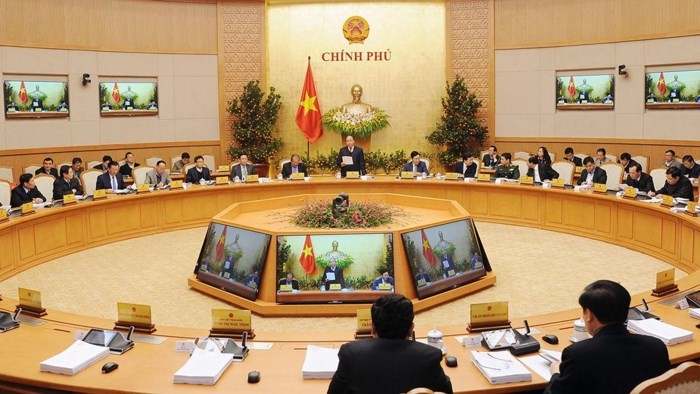 PM Nguyen Xuan Phuc has asked cabinet memers to calculate measures to achieve or even surpass the 2018 GDP growth target set by the National Assembly. (Photo: Tran Hai/baodauthau.vn)
The Ministry of Planning and Investment reports that Vietnam's economy grew 7% in the first three months thanks to stability in the macro-economy, prices, inflation, financial and monetary indexes, foreign exchange, interest rates, liquidity, state revenues, the stock market, investment attraction, FDI disbursement, and export revenue.
HCM city, Hanoi, Bac Ninh, and Thai Nguyen were among the localities enjoying high growth while rice, fruit, and garment exports increased impressively.
Nguyen Dinh Cung, Director of the Central Institute for Economic Management, said the quality of growth has much improved.
"Thanks to the government's Resolution on boosting economic growth, the economy is expected to see positive changes this year. The government has outlined 242 specific tasks with specific deadlines, and has defined the desired profile of governance: incorruptible, creative, and effective," said Cung.
In the first 3 months, approximately 27,000 businesses were established, a record number.
Vu Tien Loc, Chairman of Vietnam Chamber of Commerce and Industry, said: "The simplification of administrative procedures has been a goal for many years and lots of resolutions, directives, and action programs have been promulgated to accomplish it. But this might be the time we can finally see some practical outcomes. The government"s target of cutting one third to half of all business conditions and administrative procedures in the next 1 to 2 years could produce a real breakthrough. The Ministry of Industry and Trade is on pace to halve its administrative procedures, so I think the target is feasible."
Despite positive macro-economic achievements, ministries and agencies have been asked to continue to monitor the domestic and global economy, especially in banking, finance, the securities market, and real estate.
Nguồn: vovworld.vn