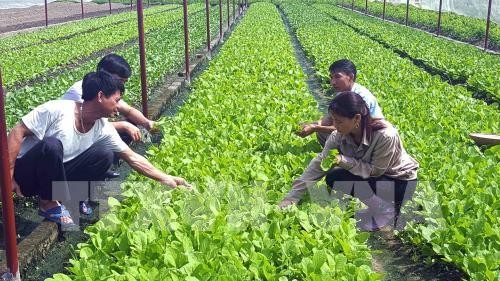 Organic vegetable production at Dong Cao Agriculture Cooperative in Pho Yen town (Photo: Quan Trang/VNA)
The Vietnamese government has identified high tech agriculture development as a necessary direction for improving domestic farm produce and competing with imported products.
In 2010 the Government issued a decision on high-tech agriculture development until 2020. It has adopted multiple policies to support enterprises and farmers, called for investment in hi-tech applications, established new style cooperatives, and developed value chains to create high quality agricultural products with high added value in order to ensure national food security and improve social welfare.
Agricultural economist Le Van Nghia said: "With the new-style cooperative model, a cooperative committee is set up to discuss the land reserves, farmers' participation in production organization, and interests of involved households. In that way, farmers can ensure the output and opportunities to apply high tech in production."
In the last 10 years, 29 agricultural production zones and 20 enterprises have applied high technology in their production.
Most notable models include safe vegetable production, organic vegetables, flower and ornamental plants in greenhouses in Bac Ninh, Lam Dong, Ho Chi Minh City, large-scale mushroom production in Vinh Phuc, tea growing areas using foreign technologies in Thai Nguyen, and high-quality rice production in the Mekong Delta.
Many enterprises and households in the southern region have benefited from the application of high tech and the adoption of international standards.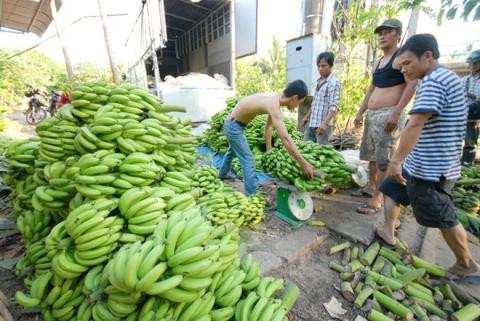 Vietnam's banana has been exported to demanding markets like Japan and European countries. (Photo: baodatviet.vn)
The Viet Banana Company in Ho Chi Minh City, for example, now sells its products in Japan and Europe, two very demanding markets.
Le Xuan Phuong, the company's director, said: "Currently we are using different kinds of fertilizers and pesticides all of which are from Europe to create biologically safe products."
By 2020, Ho Chi Minh City aims to earn of 13,000 USD per hectare per year in agricultural production and 22,000 USD by 2025.
Currently, several enterprises earn between 9,000 USD and 17,000 USD per hectare per year. Some have even achieved 22,000 USD to 44,000 USD per ha a year. Those figures prove the value of investment in high-tech agriculture. But small and medium-sized enterprises have a hard time finding the capital to invest in high- tech applications.
To solve that difficulty, last March, the Prime Minister approved a preferential credit package worth 4.4 billion USD for high tech application loans. The Prime Minister has also approved a master plan on hi-tech agriculture zones through 2020 with an orientation to 2030.
Nguồn: vovworld.vn