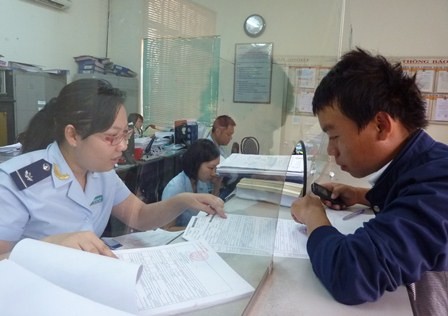 HCMC customs sector boosts administrative reform (Photo: Hai Anh/thoibaotaichinhvietnam.vn )
Nguyen Thi Song Ngoc, who works for the Van Hung Flavoring Joint Stock Company in HCMC and is in charge of customs declarations at Cat Lai Port, says that thanks to the use of e-customs and on spot inspection, Van Hung Flavoring has saved a lot of the time it used to spend traveling between agencies.
Under the Government Decree on the Law on Food Safety and Hygiene, food safety will be inspected through documents instead of samples. As a result, the time required to get goods certified has reduced. Ngoc"s company now needs 3 or 4 days to get a certificate instead of 10 to 20 days.
She said: "It takes 10 to 15 minutes to make an online declaration. That's very convenient. I get prompt feedback, too, so I can correct mistakes immediately. Customs procedures can be completed in just 3 days."
Dang Van Hoang, Director of the Plant Quarantine Sub-Department of the Ministry of Agriculture and Rural Development, said specialized inspection agencies work closely with the customs agency to implement administrative reforms.
According to Hoang, "All procedures are processed on the national one-stop shop. Businesses send their documents online and get the results on line as well. Everything is quick and businesses can save time. We'll continue to administrative reforms pursuant to create favorable conditions for importers and exporters."
To speed up the administrative reform and limit direct contact between customs officials and enterprises, the HCM City Customs Department has increased its use of e-customs through the Vietnam Automated Customs Clearance System at all 12 of the city's customs offices and uses container scanners to quickly identify which companies have met the customs standards for clearance.
By also applying risk management methods, the time needed for goods clearance has been halved since last year.
The Department does online monitoring using a camera system to check the staff's morale and work, and is piloting automatic customs control and inspection of imported and exported goods.
The municipal Customs Department is now piloting the monitoring system at other ports in the city, and has re-organized Cat Lai New Port.
Dinh Ngoc Thang who is in charge of HCMC's Customs Department said: "Wherever businesses are located, they can find out what they need to do to be cleared. Then the driver can load and unload the goods, without presenting any documents to the customs agency or port company."
Nguồn: vovworld.vn